Registration and rules
To All Participants of Celestina Popa Gymnastics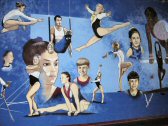 Welcome to our club! We strive to ensure that your child's gymnastics experience is a positive and rewarding one. Gymnastics is a great building tool for improving gross motor skills, flexibility, coordination, strength and it promotes self-confidence. Safety is an important aspect of gymnastics activities, and we would like to ask for your cooperation in implementing our rules. Here we go!
The office will be open on Thursdays 4-7pm. Please send us an email at celestinapopa@hotmail.com if you have any questions and for the fastest response time.
Please read our Fall Newsletter for the latest news and check out our OPEN HOUSE flyer!
Registration for Winter session 2024 running from January 8th -March 16th begins on Sat. Nov 25th at 10:00 am online on Uplifter Program - click here, you can now view our flyer Winter 2023 Program
Please check our Code of Conduct posted on this page or in the document Code of Conduct, thank you!
- In addition to class fee we will charge an yearly registration/insurance fee (valid from Sept 1 until Aug 31 next year).
-The class price is calculated per semester and will be pro-rated only for the members that register after the semester starts.
-Payment to be made at time of registration.
The gym and the office are CLOSED on statutory holidays
Important Reminders:
* Arrive to the gym 5 minutes early
* Drop off is only available at the front entrance and we have parking available at the back of our building. PLEASE DO NOT park in other businesses' parking lots especially not the Centre Stage Dance Studio or LUCO concrete (across from us).
* When you drop your child off, leave them at the door (we prefer parents not to come into the gym as space is limited).
* Unfortunately, we do not offer viewings. We do not have a seating area within the gym nor a viewing window for parents to watch their children. Adults are not permitted in the gym. This policy was in place pre-Covid19 and is not a result of the pandemic. Exceptions will be made on a case-by-case basis (anxiety, medical needs etc). During warm weather, the gym doors at the back parking lot will be open and parents are allowed to sneak a peek. Please note that if you choose to watch your child through the back gym doors, the expectation is that coaches and athletes will not be disturbed or distracted by guests.
* For PARENT & TOT classes, please send only ONE parent per child.
* Please send a water bottle with your child and have them wear comfortable clothing. Tie long hair back in a ponytail. Female gymnasts can wear a leotard/bodysuit or an athletic one-piece bathing suit. We offer locally-made gym bodysuits/leotards at great prices from $20 to $35 (tax included). Cash, chq (made payable to Andreea Szilaghi) or E-T at: saanca@hotmail.com (use the password "Celestina"). They can also wear stretchy t-shirts and shorts if they like. Male gymnasts are required to wear shorts. Cotton blends are excellent choices. Bare feet inside the gym.
* Parents, please pick up your children on time. When classes are completed, all athletes must leave promptly.
* If you have any questions or concerns, please send us an email at: celestinapopa@hotmail.com
* Wearing a face mask is a personal choice for staff/coaches and athletes.
Heath and safety:
Please keep your child at home…
If they are feeling unwell, have a fever, cough and/or headache. If they are contacted regarding Covid-19 exposure or have tested positive in the last 14 days. By attending club activities, the athlete and guardians of the athlete understand and assume any and all risks associated with potential exposure to the Covid -19 virus. Please notify us by email if your child will miss training.
By attending club activities, the parent /guardian and child understand and assume all risks associated with potential exposure of COVID-19.

Refund Policy
1.If the session has not yet started and it's at least 48h /2 days prior to commencement, all members are eligible for a refund of the full session's cost less a $20.00 administration fee. Requests for withdrawal MUST be done in writing to celestinapopa@hotmail.com.
2. NO REFUNDS will be issued after the second class. For withdrawals after the first class but before the second class, $42.00 will be retained per child to cover the cost of the first class ($22.00) and the administration fee ($20.00) plus applicable taxes.
3. Credit will only be given mid-session to athletes with serious injuries (i.e. fractures) and a doctor's note. A pro-rated credit will be issued for the balance of the remaining classes to be used for the next available session ONLY
4. No credit or refund will be issued if a second child (sibling) is withdrawn.
5. Illness or self isolation: Unfortunately, no refunds nor credits will be provided for illness or isolation.
6. Make Up Classes: We are at full capacity and we are not able to offer make up classes.
7. Cancelled classes will be announced on our website at www.celestinapopagymnastics.com, our Facebook page, or please listen to our answering machine at 604-459-4458 if you are in doubt.
8. Celestina Popa Gymnastics Inc. accepts payments from any organization that sponsors families (JumpStart, KidSport and ISPARC). Full payment is required in advance of the start date of the session. Please contact the sponsor early to secure payment/funding before the session starts otherwise parents complete payment and will be reimbursed after their funding has arrived. Please mention the organization's name when registering. If the amount given by the organization is less than the cost/semester, the parents pay the cost difference.
Our refund policy applies to all our recreational programs including FALL, WINTER, SPRING, SUMMER CAMPS.
Thank you for your continued support!