Birthday Party starting on January 2024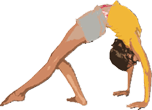 Saturday from 3:15-5:00
>
In the gym (1 hour) -coaches will start with age-appropriate fun games, a warm-up and stretching. The birthday child and guests explore the equipment with some basic gymnastics.
* skills obstacle course (circuit on most of the equipment vault, bars, beam and floor); structured, organized and supervised by our coaches! The last part of gym time will be free time including a Bouncy Castle.
* Unfortunately, no trampoline use is permitted for guests under 6y (GBC regulations)
* We set up the party room and tablecloth.
In the party room (45 min) -parents are in charge of this part of the party
* Parents must provide all necessities (plates, napkins, cups etc.) plus food /drinks for their guests.
* We clean-up!
Cost (all taxes are included!): $200.00 up to 10 kids, additional kids $20/child (max of 14 kids/party);
Birthday Parties: The "birthday child" must be turning 5 years old or older; however, guests can be any age.For children under 4 years old and any child requiring one-on-one support, we ask for parents' /caregiver participation.
We require a down payment of $50.00 (cash or E-T at: celestinapopa1@gmail.com, non-refundable) at the time of booking and the balance due at the time of the party. If you reserve a day/time over the phone/email, we will keep that reservation for 48 hours, after that, if the deposit has not been paid, your reservation will be cancelled. The minimum charge for birthday parties is $200.00, even if there are less then 10 guests.
For members the rest of the payment is accepted with E-T or cash.
All the children participating in the gym at the birthday party will be included in the number of kids/party (the birthday child, siblings and guests) listed on the Party List/signed waiver.
Parents arrive no more then 10 min early and you must be ready to leave on time.
>
Please complete Birthday party registration form