Birthday Party for 5y+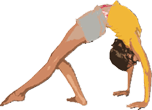 Parents, please read ALL the info on this page prior to booking, please send us an e-mail for a faster response at celestinapopa@hotmail.com to ask availability, phone messages will be answered only during the office hours. Thank you!
Please read all the rules, policies and our Communicable Disease Plan prior to registration.
In the gym (1 hour) -coaches will start with age-appropriate fun games, warm-up and stretching. The birthday child and guests explore the equipment with some basic gymnastics.
* skills obstacle course (circuit on most of the equipment vault, bars, beam and floor); structured, organized and supervised by our coaches! The last part of gym time will be free time including a Bouncy Castle.
* Unfortunately, no trampoline use is permitted for guests under 6y (GBC regulations)
In the party room (45 min) – parents are in charge of this part of the party
* We set up the party room and tablecloth.
* Parents must provide all necessities (plates, napkins, cups etc.) plus food /drinks for their guests.
* We clean-up!
Cost (all taxes are included!): $200.00 up to 10 kids, additional kids $20/child (max of 14 kids/party); 10% off total cost for current members!
Birthday Parties: The "birthday child" must be turning 5 years old or older; however, guests can be any age
For children under 4 years old, children with disabilities or children who are neurologically diverse, we ask for parents' participation. Any child requiring one-on-one support, MUST BE ACCOMPANIED BY A CARREGIVER/PARENT.
We require a down payment of $50.00 (cash or E-T at: celestinapopa1@gmail.com, non-refundable) at the time of booking and the balance due at the time of the party. If you reserve a day/time over the phone/email, we will keep that reservation for 48 hours, after that, if the deposit has not been paid, your reservation will be cancelled. The minimum charge for birthday parties is $200.00, even if there are less then 10 guests. All the children participating in the gym at the birthday party will be included in the number of kids/party (the birthday child, siblings and guests) listed on the Party List/signed waiver.
Parents arrive no more then 10 min early and you must be ready to leave on time. Parties are often booked back-to-back and we need time to clean/set-up the party-room. If you are running late, the club reserves the right to charge you an additional fee of $30 per every 15 min late.
Please complete Birthday party registration form and Party waiver.