About us
Our philosophy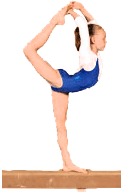 Active kids become active adults. Early introduction to physical fitness is very important to childrens health and general development. Our club's professionally trained coaches guide children through fitness fundamentals at a pace and level suitable for them.
Our coaches have been trained to channel children's natural energy into learning gymnastics basics and beyond. Our athletes follow a Level Program specially designed for each age group and ability!
We encourage you to come and visit our facility, where kids have fun and they learn a lot!!!