News and links
NEWS!!!
Mon, FEB 8, the gym is closed, no classes!
Registration for WINTER 2016 IS OVER! WE WILL GIVE NOTICES TO OUR MEMBERS FROM FEB 15 TO 20, we will post the schedule and cost for our next semester, Spring 2016(March 29-June 25), after Family day, and start registrations on FEB 23.
Starting Jan. 5 the office will be open regular hours again.(Tues&Thurs 4-7) until futher notice
We accept 2 or 3 payments when 2 or more kids are registered, first portion due at the time of registration and the rest of the payment(s) due on the 1st or 15th of the next month(s)
Selections for COMPETITIVE programs are made by Celestina only, she will give notices to the selected athletes(members of our club) with information about the program and payment. If you are NOT a member of our club and wish to be assest in order to be in our Competitive Program, a $25 assestment fee(cash only) will be required and please send an e-mail to celestinapopa@hotmail.com. After selection: In order to secure your child's placement in the Competitive, Pre-Competitive, Interclub program, a deposit is required at the time of registration. The amounts for deposit and monthly payments are provided in the notices. Please provide post-dated cheques for the 1st of the month with specified amounts. No exception!
The gym and the office are closed on statutory holidays: Sept. 1(Mon)- Labour Day, Oct. 13(Mon) - Thanksgiving Day, Nov. 11(Tues)- Remembrance Day, Dec. 25(Thurs) - Christmas Day.
The gym and the office are closed on statutory holidays(2016): Family Day(February 8, Monday),Good Friday(March 25, Friday),Easter Monday(March 28, Monday),Victoria Day(May 23, Monday),Canada Day(July 1, Friday ),Civic Holiday(August 1, Monday ),Labour Day(September 5, Monday),Thanksgiving(October 10, Monday ),Remembrance Day(November 11, Friday ),Christmas Day(December 25, Sunday)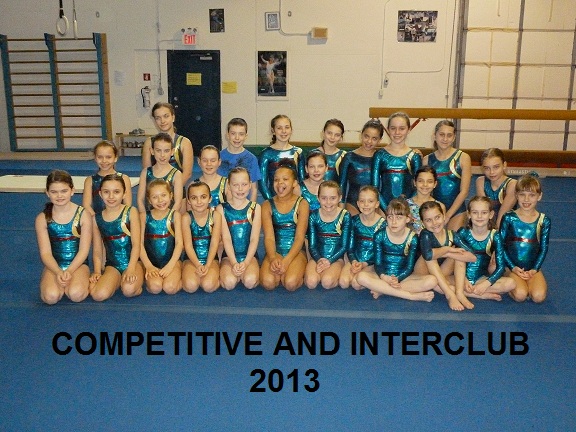 GREAT NEWS, THREE OF OUR ATHLETES FROM COMPETITIVE PROGRAM QUALIFIED FOR BC CHAMPIONSHIPS!!!
Dear parents, you can pick-up Flyers with our program as well as Registration Forms(for programs or Birthday Parties) FROM THE DESK, for REGISTRATION AND INQUIRIES PLEASE COME WHEN THE OFFICE IS OPEN, DO NOT DISTURB THE CLASSES BECAUSE THE COACHES CAN'T LEAVE THE CLASS UNATTENDED TO TAKE REGISTRATIONS OR ANSWER QUESTIONS! Thank you for your understanding!
Please click here to read ALL the rules prior to registration about registration in our program and/or birthday parties, about refund policy and about our gym rules.
REMEMBER: We offer gym bodysuits at great prices from $17 to $35(tax included).Please CLICK HERE to see some of gym bodysuits. They can also wear stretchy shorts if they like. Male gymnasts are required to wear shorts. Cotton blends are excellent choices.
Despite our best efforts, sometimes an error can slip through and we appologize for this inconvenience! In the event of a printing error, the info and fees provided by our office or our web-site will be deemed accurate!
The gym and the office are CLOSED on statutory holidays, for a complete list of holidays please visit this page
Feel free to check out these links about Celestina Popa-Toma