Kindergym Program
Kindergym Programs are offered for boys and girls ages 2 to 5 years old. For info about the programs, down on this page.
FALL Program 2015 ~ Sept. 8 –Dec. 19
THE OFFICE AND THE GYM ARE CLOSED ON STATUTORY HOLIDAYS! SEPT. 7(MON, LABOUR DAY), OCT. 12(MON, THANKSGIVING DAY), NOV. 11(WED, REMEMBRANCE DAY), DEC. 24, DEC. 25.
Registration for FALL 2015 IS OVER!!! Last week of classes is DEC 14-19!.
WINTER Program 2016 ~ Jan. 4-March 19
Registration for WINTER 2016(which will run from Jan 4 to March 19) starts on NOV 17(Tues)! YOU CAN CHECK OUR WEB-SITE FOR SCHEDULE AND COST OR YOU CAN CLICK HERE TO VIEW OUR FLYER WITH THE PROGRAM.
The office will be open longer hours and more days for registrations for two weeks(from NOV 17 to NOV 28) as follows:
TUES: 10.00-12.00 and 4.00-7.00
WED & THURS : 4.00-7.00
SAT : 9.30-12.30
After Nov 28 the office will be open regular hours on TUES&THURS from 4.00-7.00, registration for WINTER 2016 will be ONGOING until FEB 2016.
Please click REFRESH when viewing our program because we update frequently!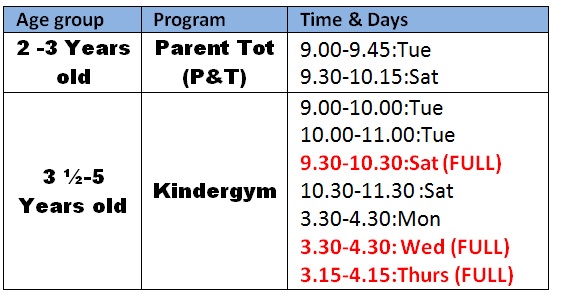 The cost is per semester, per child, one time a week(meaning 1 class of 45 min or 1 class of 1H)!!! (cash or cheque only, ALL TAXES ARE INCLUDED!):
Parent and Tot (2-3 y ~ 45 min class): $130 /semester/child/1 class(45min) a week
KINDERGYM(3.5-5 y ~ 1H): $170 /semester/child/1 class(1 hour) a week
CASH OR CHEQUE ONLY.Please make the cq payable to Celestina Popa Gymnastics.
CURRENT MEMBERS: please bring the notice given by the coach(to make sure you register in the correct level/age group) and payment for registration. NO GBC form required, as the form from Sept is valid until Aug 2016
NEW MEMBERS must register with Gymnastics BC , complete a GBC form and pay the annualy membership of $30/athlete(no discount, the membership includes: Gymnastics BC insurance, Gymnastics Canada membership and our club membership), which is valid from Sept. 1 to Aug. 31 next year, besides the class fee!!!
10% OFF class fee for second athlete/sibling(of lower fee)
We accept 2 or more payments for families with 2 or more kids in our program!!! First portion of the payment due at the time of registration, please make cq payable to Celestina Popa Gymnastics Inc. A receipt will be issued when the last payment is made, please save your receipts for your income tax next year.
NOTE: Winter Program 2016 is subject to change.Please check our web-site for more info and read our policies PRIOR to registration.
NEW!!!

Day: DEC. 22 (Tues)
Time: 10.00-1.00
Cost: $30/athlete
For kids 4+ years old ONLY.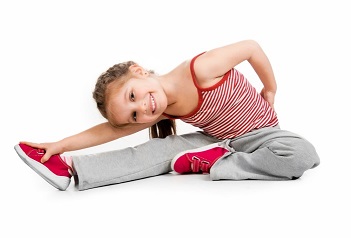 A day of fun: gymnastics, arts & crafts, snack break (not incl., so parents please send kids with healthy snacks).
This is a good opportunity for kids to be busy on a cold day or to try gymnastics without commitment and for parents a good occasion to finish their shopping before Christmas without kids!
The gym and the office are closed on statutory holidays(2016): Family Day(February 8, Monday),Good Friday(March 25, Friday),Easter Monday(March 28, Monday),Victoria Day(May 23, Monday),Canada Day(July 1, Friday ),Civic Holiday(August 1, Monday ),Labour Day(September 5, Monday),Thanksgiving(October 10, Monday ),Remembrance Day(November 11, Friday ),Christmas Day(December 25, Sunday)
For Kindergym class: Kids must be at least 3.5y when the program starts and be able to participate by themself!
Registration is first come first served. We don't automatically hold a spot from one semester to another for our members! Payment has to be made at the time of registration, cash or cheque, therefore telephone and e-mail registrations will not be considered valid.
Our program is subject to change due to low registration and depends on demand. If you have any suggestions, please let us know!
Please check our NEWS!!! section for the latest news!

Parent & Tot: 2-3 Years old
The fundamental principle is that children learn through play and that it is central to all young children's learning from birth through school years and beyond. Our Parent & Tot class encourage exploration of the equipment, playing games with fundamental positions of gymnastics, dancing to music and developing social skills.
Parent Responsabilities

Stay with your child at all times.
Listen to and cooperate with your child's coach.
Encourage your child to take turns and wait in line.
Look to the instructor for help with spotting techniques and skill progression. Feel free to ask for more information when needed.
Please do not talk on the cell phones during class and no food or beverages are permitted in the gym.
Have fun in the gym!
Kindergym: 3 1/2 - 5 Years old
Kids are ready to participate independetly and are able to follow directions. This class incorporates fun games, gymnastics skills and a lot of jumping, balance and strenght. Kids must be at least 3.5y when the program starts and be able to participate by themself!
Kids should improve their overall strenght and coordination while learning new skills on the different apparatus.
The gym and the office are closed on statutory holidays(2016): Family Day(February 8, Monday),Good Friday(March 25, Friday),Easter Monday(March 28, Monday),Victoria Day(May 23, Monday),Canada Day(July 1, Friday ),Civic Holiday(August 1, Monday ),Labour Day(September 5, Monday),Thanksgiving(October 10, Monday ),Remembrance Day(November 11, Friday ),Christmas Day(December 25, Sunday)