Registration and rules
To All Participants of Celestina Popa Gymnastics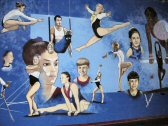 Welcome to our club! We strive to ensure that your child's gymnastics experience is a positive and rewarding one. Gymnastics is a great building tool for improving gross motor skills, flexibility, coordination, strenght and it promotes self-confidence. Safety is an important aspect of gymnastics activities, and we would like to ask for your cooperation in implementing our rules. Here we go!
Please read ALL the rules prior to registration about registration in our program and/or birthday parties, about refund policy and about our gym rules.
Registration and Refund Policy for our Program
Dear parents, you can pick-up Flyers with our program as well as Registration Forms FROM THE DESK, for REGISTRATION AND INQUIRIES PLEASE COME WHEN THE OFFICE IS OPEN, DO NOT DISTURB THE CLASSES BECAUSE THE COACHES CAN'T LEAVE THE CLASS UNATTENDED TO TAKE REGISTRATIONS OR ANSWER QUESTIONS! Thank you for your understanding!
-Registration is first come first served. Register as soon as possible every semester to hold your spot in the class you want; we don't automatically hold a spot from one semester to another for our members! If you wish to switch days or times before or after the semester started, please announce the office or Program Director and we will try to accommodate your wish.
- In addition to class fee we will charge an yearly registration fee $30/athlete (valid from Sept 1 until Aug 31 next year), which contains Insurance and membership with Gymnastics BC($15), plus affiliation with Gymnastics Canada($3.30) and the rest is Club's registration & membership altogether(which also contributes to the affiliation with Gymnastics BC and Gymnastics Canada).
-The class price is calculated per semester and will be pro-rated only for the members that register after the semester starts!
- Payment to be made in FULL at time of registration. We accept Cash or Cheque only for registration in our program.
- 10% DISCOUNT for any additional children enrolled.
- 10% DISCOUNT of second class when same athlete is registered.
-We don't offer a make-up class.
The gym and the office are CLOSED on statutory holidays
We accept 2 payments for families with 2 or more kids in our program; first payment is due at the time of registration and second is due on the 1st of the next month.If two or more payments are made, a receipt will be given only after the last payment is made. Please save your receipts for your Income Tax and use it for "Children's fitness amount".
- We reserve the right to cancel classes due to low registration. A full refund will be given for the cancelled classes.
NSF fee is $20.
Inclement Weather – No refunds will be issued if a class is cancelled due to unforeseen circumstances such as inclement weather, power outages, etc.
For registration download THIS FORM and please bring the form completed with the child's info and a cheque or cash for your payment!
Please read our REFUND POLICY before signing for the semester!

For refunds, please write your request and give it to the Program Director, Celestina Popa-Toma. OUR REFUND POLICY IS:
1. NO REFUNDS after the second class. $50/child is retained for refunds before the start of semester and before the 2nd class.
2. Refunds during semester will be given to kids with serious injuries (eg. fractures) and serious illnesses with a doctor's note! In this case, we will keep the fee membership and insurance GBC plus $Amount/class * number of classes (all fees are subject to HST).
3. Each case is different, the circumstances can differ for each family, we will try to accommodate and see how we can help.
4. No discount is given when the second child is redrawn, no credit will be carried from one child to another or to the next semester.
5. Refunds can be picked-up only when the office is open, if a refund is not picked-up after 30 days from the date issued: the club will charge a $20 administration fee.
Our refund policy applies to all our recreational programs(FALL, WINTER, SPRING, SUMMER CAMPS).
Despite our best efforts, sometimes an error can slip through and we apologize for this inconvenience! In the event of a printing error, the info and fees provided by our office or our web-site will be deemed accurate!