Registration and rules
To All Participants of Celestina Popa Gymnastics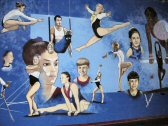 Welcome to our club! We strive to ensure that your child's gymnastics experience is a positive and rewarding one. Gymnastics is a great building tool for improving gross motor skills, flexibility, coordination, strenght and it promotes self-confidence. Safety is an important aspect of gymnastics activities, and we would like to ask for your cooperation in implementing our rules. Here we go!
Please read all the rules, policies and our Communicable Disease Plan prior to registration.
-Registration is first come first served.
- In addition to class fee we will charge an yearly registration/insurance fee (valid from Sept 1 until Aug 31 next year).
-The class price is calculated per semester and will be pro-rated only for the members that register after the semester starts!
- Payment to be made at time of registration. We accept cash , cq and E-Transfer at this email : celestinapopa1@gmail.com
- 10% DISCOUNT for any additional children enrolled.
- 10% DISCOUNT of second class when same athlete is registered(same semester).
- For parents registering 2 or more kids(same family, siblings): We accept 2 payments ; first half of payment is due at the time of registration and second half is due after 30 days-max(after the first payment), please bring a post-dated cheque at the time of registration for the second payment.If two payments are made, a receipt will be given only after the last payment is made.
- We reserve the right to cancel classes due to low registration. A refund or credit will be given for the cancelled classes.
NSF fee is $20.
Inclement Weather – No refunds will be issued if a class is cancelled due to unforeseen circumstances such as inclement weather, power outages, etc.
The gym and the office are CLOSED on statutory holidays
- Female gymnasts can wear a bodysuit or an athletic one-piece bathing suit. We offer gym bodysuits at a great prices from $20 to $35(tax included) . They can also wear stretchy t-shirts and shorts if they like. Male gymnasts are required to wear shorts. Cotton blends are excellent choices. Bare feet inside the gym.
Please read our REFUND POLICY before signing for the semester!

For refunds, please write your request and give it to the Program Director, Celestina Popa-Toma. OUR REFUND POLICY IS:
1. NO REFUNDS after the second class. $70/child is retained for refunds before the start of semester and before the 2nd class.
2. Refunds during semester will be given to kids with serious injuries (eg. fractures) and serious illnesses with a doctor's note! In this case, we will keep the fee membership and insurance GBC plus $Amount/class * number of classes (all fees are subject to HST).
3. Each case is different, the circumstances can differ for each family, especially during these trying times, we will try to accommodate and see how we can help.
4. No discount is given when the second child is redrawn.
Our refund policy applies to all our recreational programs(FALL, WINTER, SPRING, SUMMER CAMPS).