Registration and rules
To All Participants of Celestina Popa Gymnastics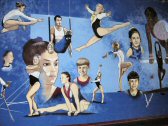 Welcome to our club! We strive to ensure that your child's gymnastics experience is a positive and rewarding one. Gymnastics is a great building tool for improving gross motor skills, flexibility, coordination, strenght and it promotes self-confidence. Safety is an important aspect of gymnastics activities, and we would like to ask for your cooperation in implementing our rules. Here we go!
Please read our Communicable Disease Plan
Registration for the WINTER 2023 Semester, January 3rd to March 11th is ONLINE
INFORMATION TO PROCESS YOUR REGISTRATION:
Click on Uplifter link: https://celestinapopagymnastics.uplifterinc.com/ and the 'login' page will be presented. Follow the instructions listed on the website to create an account. MEMBER = PARENT/GUARDIAN and is the parent's/guardian's information. PARTICIPANT = CHILD and is their information.
Once you have created your account, start adding your children into the "participants." The registration page will then become visible to you once you have created your account. On the side of the Registration Program page you can filter the classes.
Now that you have found your class -click 'Register' -and you then are able to 'Add Participant' or click on the bar and select the child you would like to register under that class.
NEW MEMBERS MUST ADD THE MEMBERSHIP FEE! ($50). Click "add subscription" and select "2022-2023 Membership fee)
• Once you have selected and registered your child click 'View Cart' and proceed to the checkout.
• If you have created an account and the class is full, please proceed and put your child on the waitlist and once a spot is opened up you will be notified via the email you have registered with and will be given up to 3 DAYS to register before the next person on the waitlist will be notified.
• IF YOUR CHILD IS REGISTERED IN A CLASS ALREADY, PLEASE DO NOT PUT THEM ON THE WAITLIST FOR ANOTHER DAY. Most classes are almost full and the chance of moving classes is low.
We will cancel your request to waitlist to make space for someone that did not get in any classes. Registering in two classes is acceptable.
• You have a total of maximum 30 MINUTES to process your registration. If you leave your classes in your cart and leave the page your classes will NO LONGER be visible to you. Please make sure you check out and proceed with payment in order to secure a spot in the class. DOUBLE CHECK BEFORE paying that you've selected the correct day, time and level for your child.
Please complete the waiver beginning with your child's age at the top right corner.
YOU ARE ABLE TO REGISTER MORE THAN ONE CHILD AT A TIME! If you want all of your children to be registered in our program and you want to coordinate classes/time - please make sure you have all their information in and ready.
If you run into a problem, please do not hesitate to email right away at celestinapopa@hotmail.com
- In addition to class fee we will charge an yearly registration/insurance fee (valid from Sept 1 until Aug 31 next year).
-The class price is calculated per semester and will be pro-rated only for the members that register after the semester starts.
-Payment to be made at time of registration.
The gym and the office are CLOSED on statutory holidays
- Female gymnasts can wear a leotard/bodysuit or an athletic one-piece bathing suit. We offer gym bodysuits/leotards at a great prices from $20 to $35(tax included) . They can also wear stretchy t-shirts and shorts if they like. Male gymnasts are required to wear shorts. Cotton blends are excellent choices. Bare feet inside the gym.

-Unfortunately, we do not offer viewings. We do not have a seating area within the gym nor a viewing window for parents to watch their children. Adults are not permitted in the gym. This policy was in place pre-covid19 and is not a result of the pandemic. Exceptions will be made on a case-by-case basis (anxiety, medical needs etc). During warm weather, the gym doors at the back parking lot will be open and parents are allowed to sneak a peek. Please note that if you choose to watch your child through the back gym doors, the expectation is that coaches and athletes will not be disturbed or distracted by guests.
-Drop off is only available at the front entrance and we have parking available at the back of our building. Do not park in other businesses' parking lots
- Arrive to the gym 5 minutes early
- Parents please pick up your children on time. When classes are completed, all athletes must leave promptly.
-Please notify us by email if your child will miss training
- Please send a water bottle with your kids , we do not have a water fountain.
Refund Policy
1. If the session has not yet started (at least 14 days prior to commencement) all members are eligible for a refund of the full session's cost less a $20.00 administration fee.Requests for withdrawal MUST be done in writing to celestinapopa@hotmail.com.
2. NO REFUNDS will be issued after the second class. For withdrawals after the first class but before the second class, $42.00 will be retained per child to cover the cost of the first class ($22.00) and the administration fee ($20.00).
3. Credit will only be given mid-session to athletes with serious injuries (i.e. fractures) and a doctor's note. A pro-rated credit will be issued for the balance of the remaining classes to be used for the next available session ONLY
4. No credit or refund will be issued if a second child (sibling) is withdrawn.
5. In the case of a Covid-19 gym closure of more than 2 weeks, a pro-rated credit will be issued for the next available session ONLY.
6. Illness or self isolation: Unfortunately, no refunds nor credits will be provided for illness or isolation.
7. Make Up Classes: We are at full capacity and we are not able to offer make up classes.
8. Cancelled classes will be announced on our website at www.celestinapopagymnastics.com, our Facebook page, or please listen to our answering machine at 604-459-4458 if you are in doubt.
9. Non-sufficient Funds (NSF) payments: NSF payments will be subject to a $20.00 administration fee. Replacement payment, including the NSF charge, must be received within 2 days of a NSF payment and no payment constitutes withdrawal from classes.
10. The club accepts payments from any organization that sponsors vulnerable families (JumpStart, KidSport, etc.). You are still required to make the full payment for the classes at the time of registration; please mention the organization's name when registering. When the cheque arrives from the sponsor, a refund will be issued to reimburse the parent/guardian. If the amount given by the organization is less than the cost/semester, the parents pay the cost difference.
Our refund policy applies to all our recreational programs including FALL, WINTER, SPRING, SUMMER CAMPS.
Thank you for your continued support!