Recreational Program
Recreational program is offered to boys and girls ages 5 to 16 years old. More info down on this page.
PARENTS, PLEASE PARK ONLY:-IN FRONT OF OUR BLUE BUILDING OR -ON THE STREET OR -AT THE BACK OF OUR BUILDING (LEASED BY US, we have 10 parking spots).PARENTS, DON'T PARK IN OTHER BUSINESSES PARKING LOTS!
SPRING Program 2017 ~ MARCH 27-JUNE 24
LAST WEEK OF SPRING SEMESTER IS JUNE 19-24!!!
REGISTRATIONS FOR FALL 2017 and SUMMER 2017 are ongoing. PLEASE CHECK OUR WEB-SITE FOR SCHEDULE AND COST AND FOR OFFICE HOURS CHECK OUR contact us PAGE!
SUMMER Program 2017 ~ JULY 4-AUG 18
During this summer we offer REGULAR CLASSES for LEVEL 1(mixed age group 5-10y) and Level 2/3(6-10y) in the month of July as shown below:
Summer Program for Girls and Boys--July 4-29(4 weeks)
THE LEVEL 2/3 ON THURS FROM 3.30-5.00 IS CANCELLED!!!

COST(for 4 classes and per child, cash or cq only):
1H class(Level 1)- $60.00/child
1.5H class(Level 2/3)-$80.00/child
New members: PLEASE ADD Summer GBC-$10.00/child . ALL MEMBERS: Complete a Summer registration form and bring with your payment during the office hours, thank you!
Our program is subject to change due to low registration and depends on demand. If you have any suggestions, please let us know!
Summer Camps for girls and boys age 5-10y:

COST: $90/CHILD/SUMMER CAMP WEEK (cash or cq only, all tax incl.)
New members: PLEASE ADD Summer GBC-$10.00/child . ALL MEMBERS: Complete a Summer registration form and bring with your payment during the office hours, thank you!
Our Summer Camps feature:
• 2.5 Hours camps for girls and boys ages 5-10Y organised as follows:
o 1.45H IN THE GYM: gymnastics skills development(Level 1, beginner), fun, organized games,
o 45min IN THE PARTY ROOM: arts and crafts, snack break (snack is NOT INCLUDED, please send kids with healthy snacks and water bottle!)
All programs supervised by certified coaching staff
NOTE: Please send kids with comfortable clothes and healthy snacks (no pop, candy or gum)!! Please read our gym rules and policy PRIOR to registration! We reserve the right to cancel the camps and classes if there is low or no registration.
FALL Program 2017 ~ SEPT 5-DEC 16
PARENTS: STARTING FALL 2017 WE WILL CHANGE THE AGE GROUPS AS FOLLOWS:
• LEVEL 1 (5-7Y) AND LEVEL 1(7-10Y)- KIDS AGE 7 can register in either class
• LEVEL 2/3(6-10Y)
THIS WILL GIVE MORE FLEXIBILITY FOR REGISTRATION!
PARENTS: we made some changes to our program then previously advertised on our flyers: REC 11Y+ on THURS will be from 5.00-6.00(instead of 7.30-8.30), NEW CLASSES for Level 1(7-10y) on TUES from 6.00-7.00 and Level 1(5-7y) on SAT from 11.30-12.30.
Please click REFRESH when viewing our program because we update frequently!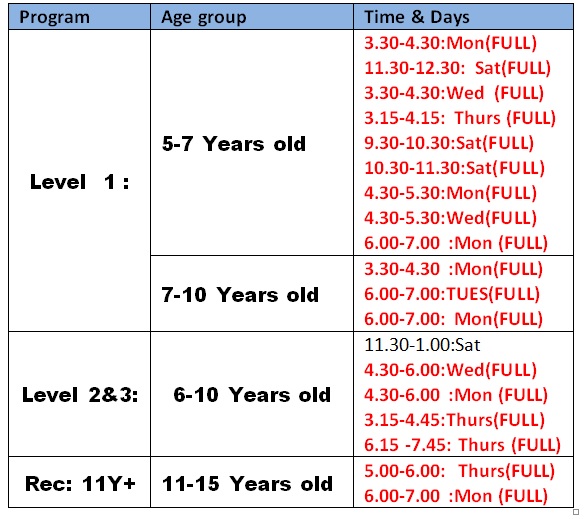 The cost per semester, per child, one time a week(meaning 1 class of 1h a week or 1 class of 1.5h a week)!!! (cash or cheque only, ALL TAXES ARE INCLUDED!):
LEVEL 1 ( 5-7 y, 7-10y ~ 1H), Rec 11y+(1H): $240/SEMESTER/CHILD
LEVEL 2/3(6-10 y ~ 1.5 H class): $350/SEMESTER/CHILD
MONDAY CLASSES ONLY: LEVEL 1(1H): $210/semester/child, LEVEL 2/3(1.5H): $300/semester/child(due to holidays)
ALL MEMBERS must re-register with Gymnastics BC starting every Sept., complete a NEW GBC form and pay the annualy membership of $30/athlete, which is valid from Sept. 1 to Aug. 31 next year.(no discount for this fee)
CASH OR CHEQUE ONLY.Please make the cq payable to Celestina Popa Gymnastics.
10% OFF class fee for second athlete/sibling(of lower fee).
We accept 2 or more payments for families with 2 or more kids in our program!!! First portion of the payment due at the time of registration, please make cq payable to Celestina Popa Gymnastics Inc. A receipt will be issued when the last payment is made, please save your receipts for your income tax next year.
CURRENT MEMBERS: please bring the notice given by the coach(to make sure you register in the correct level/age group) and payment for registration.
- All athletes must be ready and able to conduct themselves in an appropriate manner with the other athletes and coaches, actively participate in all activities of the program and to respect and follow all the rules; if an athlete doesn't demonstrate these aptitudes will be asked to withdraw from the program.
NOTE: Fall Program 2017 is subject to change and depends on registration.
Children's Fitness and Arts Tax Credits
* Effective for the 2016 taxation year, the maximum eligible amount per child will be reduced to $500 from $1,000 for the children's fitness tax credit (which will remain refundable for 2016) and to $250 from $500 for the children's arts tax credit. The supplemental amounts for children eligible for the disability tax credit will remain at $500 for both credits for 2016.
*Effective for the 2017 and subsequent taxation years, both credits will be eliminated.
JUMPSTART FUNDING DETAILS -- NEWS
DEAR PARENTS: Due to JumpStart confidentiality we are unable to find the name of the child that receives the funding and JUMPSTART will NOT disclose the name of the child. The family will have a Submission Number in order for us to link the funding with the child, therefore please provide that number to Andreea, our secretary. A cheque from JumpStart will come directly to our mailing address. If you have any questions about the payment please contact JumpStart at 1-844-YES-PLAY. Thank you.
The gym and the office are closed on statutory holidays(2017): BC Family Day(Mon, February 13),Good Friday(Fri, April 14)&Easter Saturday(Sat, April 15), Easter Monday(Mon, April 17),Victoria Day( Mon, May 22),Canada Day(Sat, July 1),British Columbia Day(Mon, August 7),Labour Day(Mon, September 4),Thanksgiving( Mon, October 9),Remembrance Day(Sat, November 11),Christmas Day(Mon, December 25),Boxing Day *(Tue, December 26)
Registration is first come first served. We don't automatically hold a spot from one semester to another for our members! Payment has to be made at the time of registration, cash or cheque(payable to Celestina Popa Gymnastics), therefore telephone and e-mail registrations will not be considered valid.
Please check our NEWS!!! section for the latest news!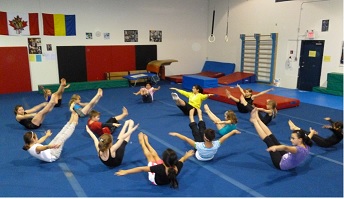 These programs are for school-age kids, 5 years and older, and they will learn a modified CANGYM program, levels 1-5.
Please click here to read ALL the rules prior to registration about registration in our program and/or birthday parties, about refund policy and about our gym rules.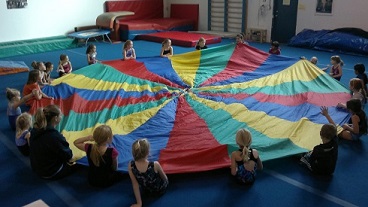 Level 1: 5-7 Years old, 8-10 Years old
This program is for boys and girls; they will learn basic gymnastics skills, rolls front and back, handstand, cartwell, bridge, swings and pullovers on the bars, combinations on the beams, as well as safety in the gym.
Trampoline: Tuck jump, Star jump, Jump full turn /tornado, Donkey kicks, Seat drops/Bum Drop
VAULT:Running, jump on mini tramp squat on the table vaulting, jump down two feet; Running, jump two feet to a front roll on the cheese mat
BARS:Stand in front support 5 sec and front roll; Hold the feet at the bar for 5 sec and a back to front roll /"skin the cat"; Walk on the high bar side 2 times; Lift your knees at your chest 10 times
BEAM: Walking forward / backward with kicks; Bear Walking, bunny jumps; Jumps on two feet ; Front support holds 10 sec; V sit 10 sec
FLOOR: Front /back support ; Forward roll; Shoulder stand; Hand stand at the wall 10 sec; Bridge (5 sec); Cartwheel
RINGS: Hold up side down (invert) 10 sec; A back-to-front somersault /skin the cat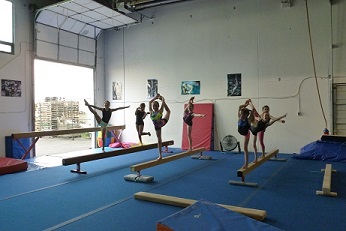 Level 2&3: 5-7 Years old, 8-10 Years old
This program is for boys and girls; they have been in our program for at least one semester and want to continue gymnastics at recreational level without competing.
Level 2-SKILLS
Trampoline: Straddle jump; Pike jump; 10 donkey kicks with straight legs; Seat drops to knees and hands(dog)
Vault:Kick to handstand fall in to a bridge; Running jump on mini tramp/board, squat on, jump down two feet; Running jump two feet to a front roll on high cheese mat
Bars: Hold for 10 sec in L pick hang/straddle; Pull over on the low bar; 5 long swings; Lift your legs at the bar 5 times, on high bar; Climb half way on the rope
Beam: Walking with front, back kicks; Jumps on one leg; Kick to handstand ,step out on green mat; Cartwheel on the line/green mat; Bridge on green mat; 10 sec hold in a tuck, side ways
Floor: Front to back to front support (360 turn); Forward roll to standing on flat; Backward roll on the cheese mat; Hand stand at the box; Handstand -bridge -kick over at the box; Round off of a box
Fast track: Round off of fast track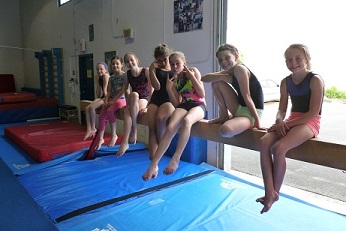 Level 3-SKILLS
Trampoline: Split jump (right and left leg); Jump full turn /tornado, to a seat drop; Donkey kicks from knees up to hand stand; Seat drops to doggy drop, to front tuck
Vault: Running jump on mini tramp/board, squat on, front handspring off the vault; Running jump two feet to a front roll on the high mat
BARS: Hold for 10 sec in pick hang/straddle upside down ; Back hip circle on low bar; 5 long swings and pull over; Lift your legs at the bar 10 times, on high bar ; Climb all the way on the rope; 5 all the way push-ups
BEAM: Running, chasse, skipping; Scale front, side and back; Tuck, pike and star jump; Kick to handstand-lunge and cartwheel on low beam ; 10 sec hold in a pike and straddle (cross and side position)
Floor: Handstand -lunge ; Backward roll on flat mat ; handstand bridge standing up ; bridge from standing up kick over ; round off on the floor ; back hand spring on the barrel
Rings: 5 pike and arch (bit swings), back salto at the last one
Fast track: Front handspring off; Fly spring off
Recreational 11y+ Years old(ages 11-15y)
Those classes are designed to accomodate older kids, who have some or no previous gymnastics experience.
Kids in this class will learn rolls, swings on the bars, hand stands and cartwheels, bridges and combinations on the beams, basic gymnastics skills. In the class will be also integrated flexibility and strenght.


Interclub Girls 7+
Through the Interclub category recreational gymnasts will have the opportunity to participate in gymnastics events and perform routins.
The BC Interclub Program is performance based and is meant to focus on the opportunity to perform rather then the content of the routine. The Interclub category is strictly intended for recreational participants.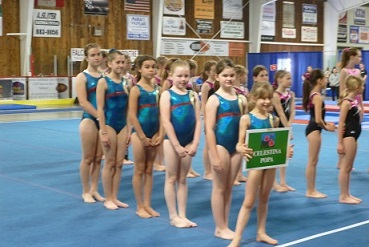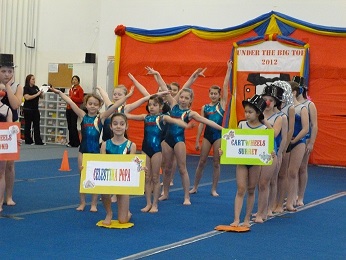 For Junior Olympics, Pre-Competitive and Interclub assestments, please contact Celestina by email, and also please read details on Competitive Program page! The athletes for these programs are assessed and selected by her!