Recreational Program
Recreational program is offered to boys and girls ages 5 to 15 years old. More info down on this page.
PARENTS, PLEASE PARK ONLY:-IN FRONT OF OUR BLUE BUILDING OR -ON THE STREET OR -AT THE BACK OF OUR BUILDING (LEASED BY US, we have 10 parking spots).PARENTS, DON'T PARK IN OTHER BUSINESSES PARKING LOTS!
Dear Members of Celestina Popa Gymnastics: The health and safety of our gymnasts, parents, coaches and community continues to be our highest priority. As mentioned on March 19, following the recommendations of BC Heath Authority and Gymnastics BC, our gym will be closed until further notice and also we will issue FULL refunds to all our members. On March 25, we finished mailing all the refunds(we used the address on file/registration form or if you already send email before MON-March23, we used the address send). Please check our web-site and Facebook page for updates! In the meantime we will post suggestions/videos with exercises to keep the little gymnasts entertained and busy at home. Thank you for your understanding and your support! 💗
Children's Fitness and Arts Tax Credits-effective 2017 and subsequent taxation years was ELIMINATED
JUMPSTART FUNDING DETAILS -- NEWS
DEAR PARENTS: Due to JumpStart confidentiality we are unable to find the name of the child that receives the funding and JUMPSTART will NOT disclose the name of the child. The family will have a Submission Number in order for us to link the funding with the child, therefore please provide that number to Andreea, our secretary. A cheque from JumpStart will come directly to our mailing address. If you have any questions about the payment please contact JumpStart at 1-844-YES-PLAY. Thank you.
The gym and the office are closed on the following days(2020): BC Family Day,Good Friday,Easter Saturday, Easter Monday,Victoria Day,Canada Day,British Columbia Day,Labour Day),Thanksgiving,Halloween, Remembrance Day,Christmas Day,Boxing Day *(Thurs, December 26)
Registration is first come first served. We don't automatically hold a spot from one semester to another for our members! Payment has to be made at the time of registration, cash or cheque(payable to Celestina Popa Gymnastics), therefore telephone and e-mail registrations will not be considered valid.
Please check our NEWS!!! section for the latest news!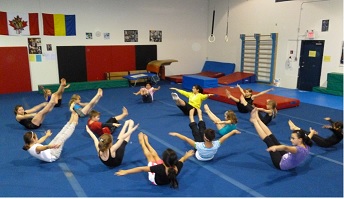 These programs are for school-age kids, 5 years and older, and they will learn a modified CANGYM program, levels 1-5.
Please click here to read ALL the rules prior to registration about registration in our program and/or birthday parties, about refund policy and about our gym rules.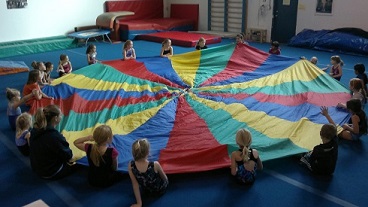 Level 1:
This program is for boys and girls; they will learn basic gymnastics skills, rolls front and back, handstand, cartwell, bridge, swings and pullovers on the bars, combinations on the beams, as well as safety in the gym.
VAULT:Running, jump on mini tramp squat on the table vaulting, jump down two feet; Running, jump two feet to a front roll on the cheese mat
BARS:Stand in front support 5 sec and front roll; Hold the feet at the bar for 5 sec and a back to front roll /"skin the cat"; Walk on the high bar side to side- 2 times; Lift your knees at your chest 10 times
BEAM: Walking forward / backward with kicks; Bear Walking, bunny jumps; Jumps on two feet ; Front support holds 10 sec; V sit 10 sec
FLOOR: Front /back support ; Forward roll; Shoulder stand; Hand stand at the wall 10 sec; climb the rope ; Bridge (5 sec); Cartwheel
Trampoline: Tuck jump, Star jump, Jump full turn /tornado, Donkey kicks, Seat drops/Bum Drop
RINGS: Hold up side down (invert) 10 sec; A back-to-front somersault /skin the cat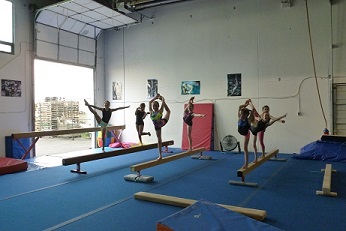 Level 2&3:
This program is for boys and girls; they have been in our program for at least one semester and want to continue gymnastics at recreational level without competing.
Level 2-SKILLS
Vault:Kick to handstand fall in to a bridge; Running jump on mini tramp/board, squat on, jump down two feet; Running jump two feet to a front roll on high cheese mat
Bars: Hold for 10 sec in L pick hang/straddle; Pull over on the low bar; 5 long swings; Lift your legs at the bar 5 times, on high bar; Climb half way on the rope
Beam: Walking with front, back kicks; Jumps on one leg; Kick to handstand ,step out on green mat; Cartwheel on the line/green mat; Bridge on green mat; 10 sec hold in a tuck, side ways
Floor: Front to back to front support (360 turn); Forward roll to standing on flat; Backward roll on the cheese mat; Hand stand at the box; Handstand -bridge -kick over at the box; Round off of a box
Fast track: Round off of fast track
Trampoline: Straddle jump; Pike jump; 10 donkey kicks with straight legs; Seat drops to knees and hands(dog)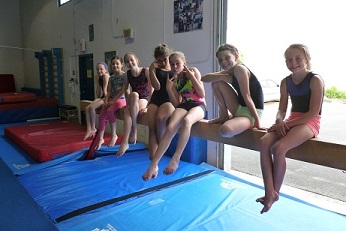 Level 3-SKILLS
Vault: Running jump on mini tramp/board, squat on, front handspring off the vault; Running jump two feet to a front roll on the high mat
BARS: Hold for 10 sec in pick hang/straddle upside down ; Back hip circle on low bar; 5 long swings and pull over; Lift your legs at the bar 10 times, on high bar ; Climb all the way on the rope; 5 all the way push-ups
BEAM: Running, chasse, skipping; Scale front, side and back; Tuck, pike and star jump; Kick to handstand-lunge and cartwheel on low beam ; 10 sec hold in a pike and straddle (cross and side position)
Floor: Handstand -lunge ; Backward roll on flat mat ; handstand bridge standing up ; bridge from standing up kick over ; round off on the floor ; back hand spring on the barrel
Rings: 5 pike and arch (bit swings), back salto at the last one
Fast track: Front handspring off; Fly spring off
Trampoline: Split jump (right and left leg); Jump full turn /tornado, to a seat drop; Donkey kicks from knees up to hand stand; Seat drops to doggy drop, to front roll
Recreational 10y+ Years old(ages 10-15y)
Those classes are designed to accomodate older kids, who have some or no previous gymnastics experience.
Kids in this class will learn rolls, swings on the bars, hand stands and cartwheels, bridges and combinations on the beams, basic gymnastics skills. In the class will be also integrated flexibility and strenght.


Interclub Girls 7+
Through the Interclub category recreational gymnasts will have the opportunity to participate in gymnastics events and perform routins.
The BC Interclub Program is performance based and is meant to focus on the opportunity to perform rather then the content of the routine. The Interclub category is strictly intended for recreational participants.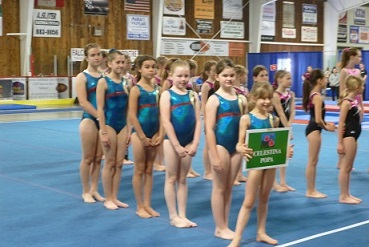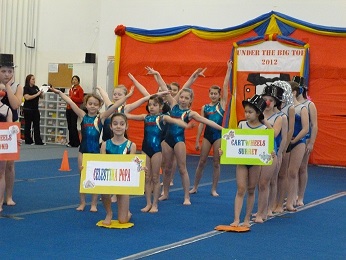 For Junior Olympics, Pre-Competitive and Interclub assestments, please contact Celestina by email, and also please read details on Competitive Program page! The athletes for these programs are assessed and selected by her!